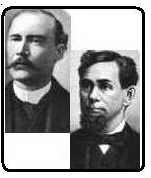 Left:William J.Finlay Right:William J.Finlay Sr.
The Finlay Brewing Co. began operations in the mid 1800 in the 1000 block of Summit St. in Toledo, Ohio. It was started by William J. Finlay Sr. and later taken over by William J. Finlay nephew of the founder. In 1904 the brewery ceased operation and the Huebner Toledo Breweries used the building for its bottling operation till prohibition.
An early 1900 Trade Card from the Finlay Brewing Co.